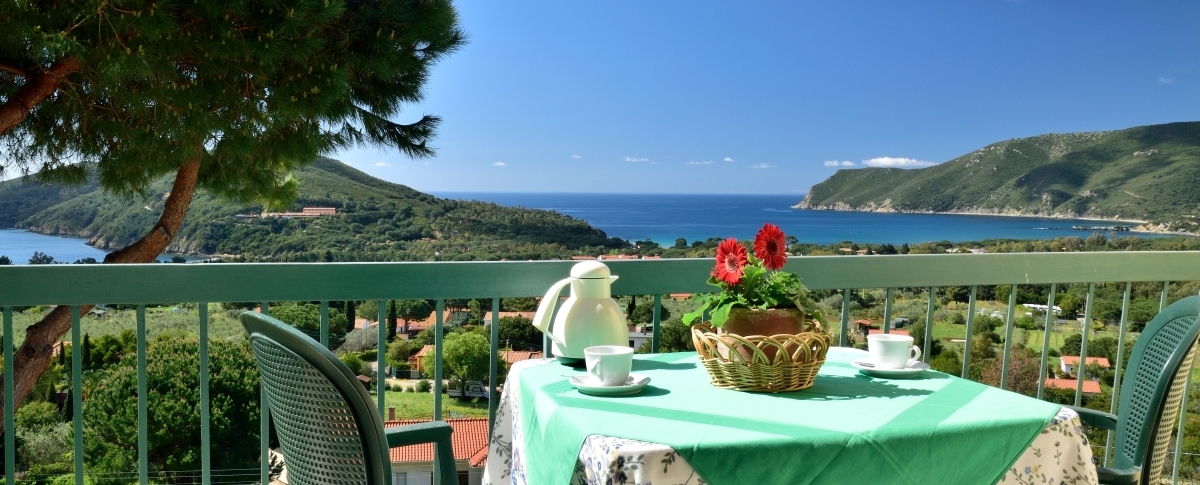 "The most panoramic hotel apartments in Lacona"
The MiniHotel is located in a unique position, surrounded by nature, bright, and with an astonishing view over the two gulfs of Lacona and Margidore. Run by the Gentili-Dorbaum family, it offers 20 apartments of different sizes, simply and functionally furnished, all with independent entrances and sea views.
MiniHotel is located 950m from a sandy and a rocky beach and offers a free private parking space a few meters from the sea shore (photo).
Bar
Ampio giardino
Spazio giochi

Parcheggio privato gratuito

Parcheggio gratuito alla spiaggia

Trasporto bagagli Hotel Montemerlo
area Wifi gratuita
Escursioni con guide specializzate

Prenotazione traghetti in convenzione
Transfer porto/aeroporto in convenzione

Convenzione bici
Convenzione autonoleggio
LACONA: Located centrally along the southern coast of Elba, Lacona is the perfect starting point for excursions and to discover the beauty and uniqueness of Elba. The beach, a long crescent moon of white sand, is characterised by natural dunes, now protected by the Arcipelago Toscano Natural Park. The many tourist services and the possibility of water sports make of Lacona the ideal location for young people and families with children.
Mini Hotel Via del Canale 603 57031 Capoliveri (LI) Isola d'Elba Tel. 0565.964041 – Fax 0565.964278 Cell. 334 9127920 E-mail: info@minihotelelba.it P.iva: 00017890492
Dati Fiscali
Il complesso turistico è composto da:
Residenza Turistico Alberghiera "Mini Hotel"
di Montemerlo Gestioni srl – Loc. Fetovaia 57034 Campo nell'Elba (LI)
P.Iva e CF 01241830494 – Iscr. Registro Imprese CCIA (LI) n. 01241830494
Case Appartamenti Vacanze "Mini Appartamenti Elba"
di Mini Appartamenti Elba di Dorbaum Karin & C. S.A.S – Via del Canale 603 Capoliveri 57031 (LI)
P.Iva e CF 01830460497